Cross Stitch Academy
Coraline Backer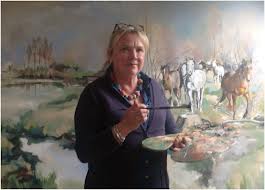 Coraline Bäcker was educated at the Academy of Visual Arts in Arnhem and was tutored by the famous Dutch artist Jelle Willemsz.
Coraline then spent a five year period as a botanical artist at the University of Agriculture in Wageningen. During this time, Coraline was also creating her own paintings with nature as the central theme.
Her natural feelings for color and composition were soon discovered. The water color technique became her speciality and her subject matter included floral compositions, gardens, landscapes and portraits. Postcards, posters (Verkerke) and cross-stitch kits (Lanarte) reproduce her original creations and her work also appears in several magazines and books.
Coraline also teaches and operates her own art workshops.
Her work has been exhibited many times in the Netherlands and overseas and her very personal technique is widely admired.
Read about other artists and designers here.
Cross stitch kits with chart based on the works of Coraline Bäcker you can review here.