Cross Stitch Academy
Igor Levashov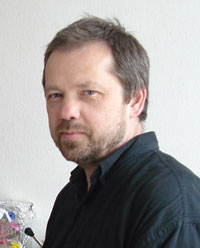 Igor Levashov was born and raised in the vicinities of Moscow and where he made his first steps in painting.
In 1979 Igor entered the Moscow Art School and finished it in 1983.
Shortly after, Igor entered The Moscow State Academic Art Institute named after Surikov V.I. from which he graduated in 1990.

Igor Levashov came to study at the Royal Art Academy in The Hague in the Netherlands in 1991 and graduated there in the year 1996. In this age he discovered his love and passion for flowers.

Igor settled down in the Netherlands to work and live with his wife and two children. Since 1998 his work has been represented in the USA.

His detailed paintings are done in oil in a one-time-session. They were exhibited at the National State Galleries in Russia; Museum of the Hague, Holland; Private Art Gallery, Athens, Greece; International Flower Exhibition Center in Aalsmeer, Holland; Kunstpassage, The Hague, Holland.
A number of Levashov's paintings have been published as art prints in Europe and North America. They have also been popular on various licensed products.
Read about other artists and designers here.
Cross stitch kits with chart based on the works of Igor Levashov you can review here.