Cross Stitch Academy
Marjolein Bastin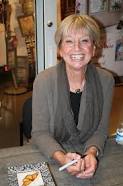 Marjolein Bastin was born 1943 in Loenen aan de Vecht. She is a Dutch noted nature artist, writer, children's author and illustrator. She is the creator of the character "Vera the mouse".
She studied at the Academy of Arts in Arnhem, where she met her husband and manager Gaston Bastin. Marjolein and Gaston Bastin have a daughter, Sanna (born in 1973), and a son, Mischa (born in 1974). Sanna, married and mother of Merel and Roos, runs the "Marjolein Bastin Kadowinkel" (The Marjolein Bastin Giftshop). Mischa is a lawyer in Kansas City, USA. Marjolein and Gaston divide their time between country homes in the Netherlands and Missouri, and a tropical retreat in the Cayman Islands. Marjolein's emotional connection to everything that crawls, flies, grows and blooms in her garden is clearly expressed in her work. Especially the details that most people overlook in nature prove an inspiration for Marjolein. The urge to make people pay more attention to those details has kept Marjolein at her desk for over thirty years.
Marjolein Bastin is a well known illustrator whose subjects are drawn from nature. Her work appears weekly in "Libelle", the leading Dutch magazine. Since she published in North America her work has become extremely successful. By perfectly capturing the spirit of her drawing Lanarte makes it possible for you to have an original Marjolein Bastin design in cross-stitch.
To date, over 40 of her designs have been translated into cross-stitch kits by Lanarte and are marketed worldwide. The kits illustrate both large and small designs giving a wide choice for all lovers of cross-stitch. You will find stitching them a real delight, particularly because of the variety of color and the beautiful detail of the design.

Surrounded by many windows, in her office, she feels most in touch with nature. From behind her spacious desk she is able to intensely enjoy all that is happening outside. Thus, she produces those magnificent works of art so much appreciated by a wide audience. Therefore, one may find prints of her creations on cards, agendas, soaps, boxes, cans, booklets and embroidery kits. Once Marjolein has selected a suitable design to be translated into an embroidery pattern, Lanarte's mosaic-makers (that is how their trade is referred to) begin to perform this extremely peculiar task with success.
It is a long translation process in which the strokes of the paint brush are replaced by little cross-stitches and stem-stitches, etc. Then the pattern is tested and adjusted several times until Lanarte is satisfied. All of this occurs under the watchful eyes of Marjolein. She maintains the highest quality of her products and refuses to accept any compromise in that respect. Marjolein's designs are admired and praised in many nations within Europe and beyond. Also in America her work is much loved.
Cross stitch kits with chart based on the works of Marjolein Bastin you can review here.
Read about other artists and designers here.