Cross Stitch Academy
Willem Haenraets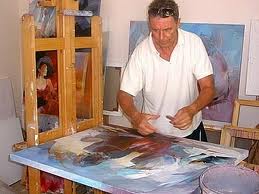 With soft colors, the artist conjures up a romantic world of beautiful illusion on his canvasses.
Willem Haenraets was born in Heerlen, the Netherlands, on October 9th, 1940.
At the age of 16 he went to the Town Academy of Applied Arts in Maastricht as his talent was discovered at an early age.
This was followed by a study at the National Higher Institute for Fine Arts in Antwerp. Under the terms of the Belgian-Dutch Cultural Treaty he was awarded a grant. He was student in the Master-Classes of Prof. Sarina (Atelier-Opsomer) and Prof. Vaarten. After finishing his studies he started to create art with a capital A. Willem Haenraets exposed in Amsterdam, Brussels, Frankfurt, Paris, London, New York, Los Angeles, Beverly
Hills and Tokio.
He is a timeless artist, whose romantic scenes in soft colors are famous all over the world! The old masters certainly would have given him a nod of approval.
Read about other artists and designers here.
Cross stitch kits with chart based on the works of Willem Haenraets you can review here.