News
NEW! Cross stitch of castle Alhambra from RIOLIS
2014-10-26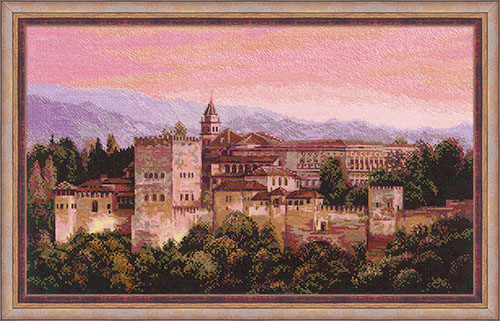 RIOLIS novelty, cross stitched castle Alhambra on the background of majestic Spanish Sierra Nevada Mountains, invites all needlework fans to travel!

It is always right the time to discover new horizons and push the boundaries. Cross stitch kit 1459 Alhambra takes us not only many kilometres away, but also to the different era. To those ages that are written about in the books and dreamed of by many. Then the greatness of man's handwork was in harmony with nature, the most monumental builder, and with the pride of the spirit.

Alhambra is one of the best preserved medieval Arab castle towns in the Iberian Peninsula. During the time when these Islamic invaders penetrated the sea coasts of Europe, their culture was experiencing an incredible bloom. Reflection of it is still alive within the old walls of this architectural and park ensemble. Water and light creates this inexpressible beauty of the internal space about which recall travellers who visited this place. While working on cross stitch kit of castle Alhambra, remember about masterpieces of art that are kept in it, and your work will acquire new shades.

Embroidery is done with Safil wool/acrylic threads (27 colours); techniques used are cross stitch, half cross stitch and stitch. Instructions and detailed chart in full colour will help you to finish the kit. Picture of the castle will be done on white 14 ct Aida Zweigart fabric. The size of the picture is 50 x 30 cm and whole picture will be covered with stitches. So this kit will be most suitable for those who already have finished some cross stitch projects. We want to pay your attention that a needle is already included in the kit.
---