News
RT-0050 Cross-stitch with poppies and peonies Oriental Bouquet
2016-10-16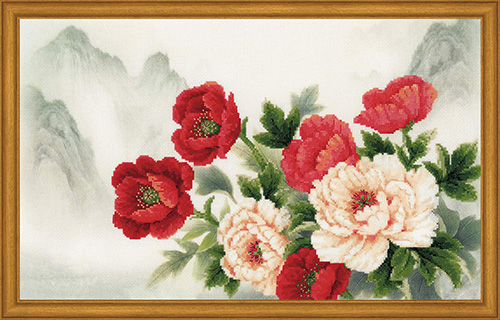 According to Feng Shui tradition peonies and poppies are considered to be kings of plants and flowers in the Eastern cultures. It's hard to argue with this idea when you witness the beauty of the cross-stitch kit with a pre-printed background
0050 PT Oriental Bouquet
. Keeping such plants in one's house is said to bring well-being in many areas of life. Of course you can't grow peopies or poppies in an apartment, but you can embroider those magnificent flowers to the benefit of your household.
Bright and rich color of poppies associates with passion and love.
By the eastern tradition, which pays immense respect to this flower, peony helps not only find your true romantic love, but also mend complicated relationships between spouses, parents and children, brothers and sisters. Sometimes a person feel that precious connection with their loved ones is lost forever. Bright color of these magical flowers like a fiery impulse will help find way to the loved one's heart.
Also Oriental Bouquet cross-stitch kit holds all the pleasant blessings for girls and brides. Poppies are said to conceive a child. There is a belief in the embroidery community that a girl who starts cross-stitching a poppy picture, will soon be with a child. In China poppies were symbols of a good wedding and a happy life for newlyweds. So this embroidery can also be used as a great wedding present!
Please note that cross-stitch kit
0050 PT Oriental Bouquet
contains a piece of fabric with a pre-printed background. Semi-transparent outline of mountains and the background rows of leaves are already printed on the fabric with manufacturer's own equipment, so RIOLIS guarantees the quality of the print. An embroidery on such a fabric (14 ct Aida Zweigart) appears more volumnous and expressive, though the actual techniques used in the kit are pretty easy: a 3-thread cross-stitch and an ordinary 1-thread stitch. The design uses 17 colors of Anchor-stranded mouline threads (including color blends). A detailed instruction will help with this unusual fabric or explain all the nuances of embroidery to a novice in the needlework world.
---